ARE YOU READY FOR THIS?!
(Yes, I'm aware that capital letters = shouting, but that's how excited I am! I want you to hear an announcer's voice at the NBA Finals with the crowd cheering and pom-poms waving—they still use those, right?—and really big dudes running out in shiny jerseys. Never mind. Scratch the big dudes).
Because I'm finally delivering on the master closet reveal that I've hinted at a few times over the last week or so, and it's big.
I've always wanted a pretty closet (sometimes I wish I could add a line-per-line soundtrack to my posts; if I could, you'd hear violins playing a haunting, nostalgic score right now).
But when we moved into our house (95% of which we built ourselves), the closet was pretty much the last thing on a looooooong (add about 4,567 more "o's" and you'll have a better idea of how not a priority it was) list of projects.
So, in went the clothes, the shoes, the jewelry, the hair doodads, the suitcases (?), the leftover home décor (??), the…scuba-gear (??!). Yeah. Our closet was pretty much a dumping ground for anything we couldn't find a place for somewhere else in the house.
And it was anything but pretty.
But enough of my jabbering. Let's let the pictures do the talking, shall we?
Ugh!
Okay, obviously not the world's worst closet. I mean, I have a built-in shoe shelf (c/o my amazing husband) for crying out loud. But there was just too much stuff in too little space…space which was not being utilized to its highest (or even middling) potential.
All the "extras" that had trickled into the closet over the past two years, only to be shoved under the clothes racks.

$5 garage sale "chandy." It more or less got the job done (i.e. I usually came out of the closet with two matching shoes).
Good shoe-shelf. Bad styling.
A view of the opposite side. Again, the bones are good. My husband made built-in cubbies, a laundry chute, and shelves…that got swallowed whole by my expansive scarf collection. Also, "non-cute" books and all my old issues of Fitness and Martha, were just jammed, willy-nilly into whichever space would fit.
Pretty much everything out. Aaaaah…it already feels so much better, but a closet's not much of a closet unless it's actually closeting stuff…right? (You're nodding your head, but you look confused).
But before we could put it all back in, we had a few teensy changes to make. The first order of business was to add a little color to the space. If you've seen my DIY Tufted Ottoman tutorial (which gave you a quick glimpse of our living room), Della's red and aqua nursery, any of my Wardrobe Wednesday posts, or my new 100% thrifted fashion site, Second Hand or Bare Bottom (oh yes, I did), you've probably been able to gather that color and me…we're likethis. So white walls—even in the closet—were not okay.
I knew I wanted to use some paint samples I had left over from our living room redo, so I intentionally bought a too-dark blue-green shade from Lowe's called Blue Shamrock intending to lighten it up. Then I opened it and got totally fooled by how light it was in the can (I'm not a paint amateur, I promise. I know it dries darker, but this was really light) and ended up cutting in the closet 3 times because my color kept ending up too dark.
Boy, those were good times.
I finally got a clue and dumped a bunch of white paint into the blue mix I already had going on, and came up with this (the best indication of the color is on my shorts):
Yeah, that's what happens when you let a 5-year-old press the drill button when you're custom-mixing your own paint. But it's pretty impossible to get too upset when he looks like this:
Then, of course, you gotta do some of this:
A little of this:
Apparently, flexed toes are essential to effective decoupaging!
Until finally (and I do mean finally), you have…
BEFORE (just to refresh your memory):
Ack!
AFTER:
Is anyone else hearing the Hallelujah Chorus right now?
(Okay, officially on the to-do list: make blog soundtrack).
For the scrolling-averse, I've compiled a collage of my favorite little vignettes (but I do hope you'll scroll too…your finger probably needs the exercise).
I hope you're ready for pictures, pictures, and more pictures, folks, because I am beyond happy with the "after," and Momma wants to show off her new baby!
Believe it or not, that's the same $5 chandy from the pic before, just reversed so that the lights point upward. Oh yeah. And painted Sherwin William's Quite Coral with new Tiffany shades (that I had stashed from a different chandelier that I…oh, never mind…my point is I already had them).
If I had really wanted to impress you, I would have ironed a couple of those blouses. Oh well.
We took the single pole that was on this wall and pushed it up to the ceiling, adding another pole below to maximize the space. Shaun's clothes are on the top pole since he can reach without a step-stool. Man, I love tall husbands.
Two of my favorite thrift-store bags now hang from a pretty dress-form I found at Ross. I got the "door" mirror a long time ago at a "barn-sale."
I love this "bird verse" print from Jones Design Company! It reads: "Seek first His kingdom and His righteousness, and all these things will be given to you as well," Matthew 6:33. Above the mirror was really the best/only place for it, but I'm really happy that it's perched there reminding me every time I analyze my reflection that God wants my first order of business to be, not my outward appearance, but my inner holiness.
Hats and scarves are bundled away in those cute jute baskets that I got at Hobby Lobby for 50% off. Isn't it nice when your shoes just happen to match your baskets? (I promise I didn't buy those just for this picture).
I took a rolling rack that used to reside in our last kitchen, spray-painted it champagne and loaded it up with the random books, magazines, and, of course, my Anthropologie catalogues that had been jammed into the cubbies. A simple row of hooks was all it took to take my belt collection from a tangled mass to serene order. *Contented sigh.*
Now, that's a shoe shelf. I bought white paintable, textured wallpaper at Sherwin Williams ($6.99 for singles rolls, but, of course, as with all wallpaper, it only come in doubles…why do they do that? I could write an entire rant post about that very topic—and I just might some day) then painted it Quite Coral and gave it a metallic craft paint glaze to highlight the detailing in the texture.
I'm not sure if that lamp (GW, $3, with a Target shade) will stay, but for now, it brightens up the space nicely.
More hooks now hold my necklaces, which act as wall-art all up and down the sides of the shoe shelf.
If I were worth my decorating salt, I would have stuffed all my bags with paper to make them stand at attention, but a) my taxidermist skills are sketchy at best, b) I'm a real girl with a real house who is too lazy to pull paper out of her bags every time she uses them, and c) I can cram more bags up there this way, and more bags = happiness.

Raise your hand if you love organization…especially in shades of aqua and white. Since we moved so many of our things up, that little teal step-stool from Marshall's ($10) comes in very handy.
Perfectly patterned aqua and white condiment bowls from Marshall's make for wonderful accessory holders.
Really, who doesn't need a fat, white ceramic pig in her life? I found each of the animal figurines (which are actually piggy banks) at the Dollar Store for $1 each (that may sound repetitive, but not everything at the Dollar Store is actually one dollar…sneaky).
The aqua tea-light holders came in these gorgeous boxes that now hold my scarves:
I was so thrilled to find something so beautiful and functional (clear plastic tops so I can see everything!) that already had something I wanted inside (I'm going to hang the rest of the tea-light holders from our pergola outside). And at $4.99 per box of holders (from Ross), it was a steal (especially when you consider that all the other pretty storage boxes I found were $5 all by their lonesome).
I found this little girl at Goodwill for $5, cleaned her up, decoupaged her with (Christmas!) wrapping paper, and changed out the knobs for my favorite white flower versions from Hobby Lobby (50% off, of course). It houses bigger bags like backpacks and totes. I got the vintage suitcase at Goodwill for $2.
I bought this jewelry tree from Marshall's a while back and found that magenta basket @ Goodwill for fiddy cent.
Fuchsia velvet hangers are definitely a girl's friend.
I think my favorite element of the entire closet is the "Mr. and Mrs." poles. I ran across this wrapping paper in the wedding section at Walmart and knew it was just the thing to spruce up plain, white poles. A little Elmer's glue/water concoction and a sponge brush were all it took to create closet pole magic!
Honestly, magical might be the best word to describe how it feels when I walk into my very own dream closet. It is humble, certainly, by fancy-house standards, but it is perfect for me, and I couldn't be more thrilled (unless maybe I could have closed my eyes, clapped my hands, and then opened my eyes to discover it all done for me…hmmm…yeah, not so much).
I've mentioned the sources and prices for several items already, but here's a quick (though not exhaustive) reference for the other items:
Velvet Flocked hangers: Fuchsia (Marshall's, $20 for 36), Cream (Ross, $40 for 100)

Jute "bird" baskets: Hobby Lobby, $5 each

Dress form: Ross, $40 (I had store credit I needed to use, or I probably wouldn't have splurged)

Aqua hanging shoe holders: Target, $2.50 each

Apple green crates: Walmart, $4 each

White flower knobs: Hobby Lobby, $2 each

Aqua and White condiment bowls: Marshalls, $1.75 each

Magenta laundry basket: Walmart, $2
I haven't done an official tally, but I guestimate the entire transformation to be at around $150 (including the dress form). Not too bad considering the drastic change.
I hope you've enjoyed viewing my closet as much as I enjoy having it (I think I get the better end of that deal).
Me? I think I'm going to round up the kiddos and just go sit on the floor in—you guessed it—the closet.
If you have any questions, or I've left something out that you're interested to know, don't hesitate to email me or leave me a comment! I love hearing from you!
Don't forget to come on back tomorrow for a Flicky Friday movie recommendation! I'll even throw in a 5 Things list for free (I bet you can guess one thing I'm thankful for this week!)
Linking up with: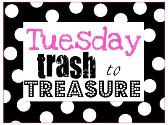 Roomspiration